A Friend in Every Port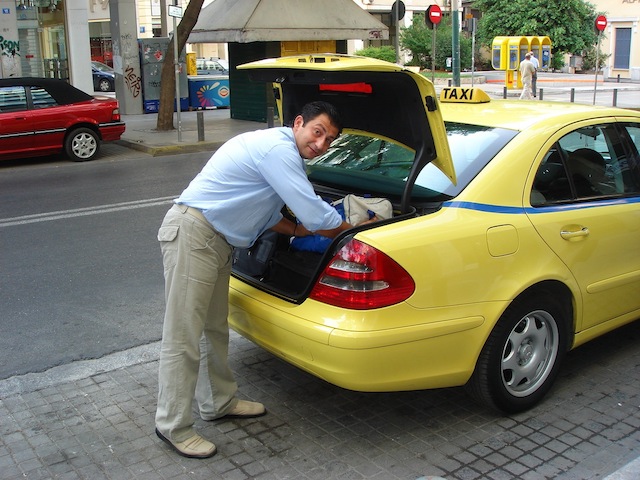 People on cruises to the Greek Islands and the Mediterranean have often wondered about those people who instead of standing on line to get on the bus for the slow tours that the cruise company provides, walk to a taxi cab and are greeted by the driver as if he or she is an old friend. Maybe they assume this person has been here before and has a friend who is a taxi driver. That is half right. But the traveler has not been here before. He has hired a private tour for himself and his family and his friends with a taxi driver he has found on the internet who specializes in these private tours. The benefits are that you can see a lot in a short period of time, ask questions without raising your hand, stop in nice spots along the way to where you are going including out-of-the-way little restaurants that can't accommodate a busload of tourists. Yes these tours cost more than those offered by the cruise companies, and they are worth more because of the personal service you are getting. A single person may recoil at the hourly or daily price. A couple may be more accepting because of what you get for your money, especially if you are splitting the cost. But a family will find that it is not only a better way to see the sites, but it is economical because these drivers don't charge by the person but by the trip.
The following is a list of drivers in ports. You might ask how did I find this list? Did I go to all these ports and hire these drivers? Well, no. I hired several of them. And they told me about a network of professional drivers who recommend each other to their clients because they know and trust the service that the other drivers give, which will of course reflect upon their own service. So while I can't recommend from experience all these drivers I list I can tell you that the drivers I have used and recommend the rest. So if you are going on a cruise or find yourself in one of these places with a list of things to see and a desire to experience them as fully as you can with a personal driver who speaks English (and in some case many other languages), who knows the best restaurants, many of which are not in the guidebooks, and can inform you of the history and culture of a city and pick you up and drop you off at your ship, hotel or the airport and make you feel like you now have a friend, then you will find this page useful.
Taxi Drivers and Tour Guides